Products

Share:

L-Proline is one of the popular food additives and ingredients in most countries, As a professional L-Proline supplier and manufacturer,
Foodchem International Corporation
has been supplying and exporting L-Proline from China for almost 10 years, please be assured to buy L-Proline at Foodchem. Any inquiries and problems please feel free to send emails to us via
sales@foodchem.cn
, we will reply you within 1 working day.
L-Proline
Language:
Type:

Amino Acid

CAS No:

147-85-3

Qty in 20' FCL:

11.25MT

Min. Order:

500KG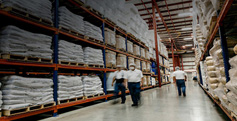 L-Proline of European Warehouse
Specification: 99%
Stock : 3000kg
Package : 25kg/bag

Prompt shipment from European warehouse for local customers,and more stock in our China warehouse, welcome inquiry!
European warehouse
Products in stock
More
USA warehouse
Products in stock
More
| | |
| --- | --- |
| ITEM | STANDARD |
| Identification | Via IR Absorption |
| Specific Optical rotation | -84.3°~--86.3° |
| Chloride(As Cl) | =<0.05% |
| Sulfate(As SO4) | =<0.03% |
| Assay | 98.5-101.5%% |
| Iron(FE) | =<0.003% |
| Heavy Metals(As Pb) | =<0.0015% |
| Orgaic Volatile Impurities | Meet The Requirements |
| Chromatographic Purity | Any individual impurity not more than 0.5% Total impurity not more than 2.0% |
| Loss on drying | =<0.4% |
| Residue on ignition | =<0.4% |
White crystals or crystalline powder; slightly sweet taste. Very soluble in water, freely soluble in glacial acetic acid, sparingly soluble in ethanol, practically insoluble in ether.L-Proline has been found as an effective catalyst for the one pot synthesis of polyhydroquinolinederivatives via four component Hantzsch reaction. This method provides several advantages such as beingenvironmentally benign, possessing high yields with increased variations of the substituents in the productand preparative simplicity.
1, What kinds of certificates can you offer?
Foodchem is an ISO2008 9001 certified company, as for L-Proline, we can offer HAPPC, KOSHER, HALAL Certificates, ect.
2, Is Foodchem a manufacturer or just a trading company?
Foodchem is both manufacturer and trading company, we are L-Proline distributor, at the same time, we are manufacturer of other products.
3, What is the Min Order Quantity of L-Proline?
Different products have different MOQ, for L-Proline, the MOQ is 500kg.
4, What is the price of L-Proline?
Foodchem is a famous supplier and manufacturer of L-Proline in China, and has been corporate with many L-Proline suppliers for several years, we can provide you with cost-effective L-Proline.
5, How long shall we wait for your reply?
We can guarantee to reply your inquiries of L-Proline in less than 24 hours in working days.
6, What kinds of transportation types can you provide?
Our main transportation methods include air transportation, land transportation and water transportation.
7, What kinds of payment terms can you accept?
The most commonly used payment terms are T/T, L/C, D/P, D/A, etc.
8, How long will I receive my good?
Foodchem has its own EDC warehouse in Shanghai, when your purchase order has been confirmed, inventory products will deliver within 1 week, other products delivery in 2 weeks.
Related Products
You may also be interested in
stearate glyceryl
preservative potassium sorbate
whole food vitamin c
malic acid supplements