Products

Share:

Sodium Benzoate
is one of the popular food additives and ingredients in most countries, As a professional Sodium Benzoate supplier and manufacturer,
Foodchem International Corporation
has been supplying and exporting Sodium Benzoate from China for almost 10 years, please be assured to buy Sodium Benzoate at Foodchem. Any inquiries and problems please feel free to send emails to us via
sales@foodchem.cn
, we will reply you within 1 working day.
Sodium Benzoate
Language:
Type:

Preservatives

CAS No:

532-32-1

Qty in 20' FCL:

16MT

Min. Order:

1000KG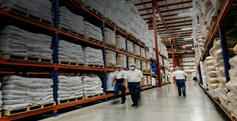 Sodium Benzoate of European Warehouse
Specification: Food Grade
Stock : 20000kg
Package : 25kg/bag

Prompt shipment from European warehouse for local customers,and more stock in our China warehouse, welcome inquiry!
European warehouse
Products in stock
More
USA warehouse
Products in stock
More
| | |
| --- | --- |
| ITEM | LIMIT |
| APPEARANCE | FREE FLOWING WHITE POWDER |
| CONTENT | 99.0% ~ 100.5% |
| LOSS ON DRYING | ≤ 1.5% |
| ACIDITY & ALKALINITY | 0.2 ml |
| WATER SOLUTION TEST | CLEAR |
| HEAVY METALS (AS PB) | ≤ 10 PPM |
| ARSENIC | ≤ 3 PPM |
| CHLORIDES | ≤ 200 PPM |
| SULFATE | ≤ 0.10% |
| CARBURET | MEETS THE REQUIREMENT |
| OXIDE | MEETS THE REQUIREMENT |
| TOTAL CHLORIDE | ≤ 300 PPM |
| COLOUR OF SOLUTION | Y6 |
| PHTHALIC ACID | MEETS THE REQUIREMENT |
Sodium Benzoate is used in acidic foods and drinks and products to control bacteria, mold, yeasts, and other microbes as a food additive. It interferes with their ability to make energy. And used in medicine, tobacco,printing and dyeing.
Sodium benzoate is a preservative. It is bacteriostatic and fungistatic under acidic conditions. It is used most prevalently in acidic foods such as salad dressings (vinegar), carbonated drinks (carbonic acid), jams and fruit juices (citric acid), pickles (vinegar), and condiments. It is also found in alcohol-based mouthwash and silver polish.It can also be found in cough syrups like Robitussin.Sodium benzoate is declared on a product label as sodium benzoate. It is also used in fireworks as a fuel in whistle mix, a powder which emits a whistling noise when compressed into a tube and ignited.
Other Preservatives: Potassium Sorbate, Rosemary Extract, Sodium Acetate Anhydrous
1, What kinds of certificates can you offer?
Foodchem is an ISO2008 9001 certified company, as for Sodium Benzoate, we can offer HAPPC, KOSHER, HALAL Certificates, ect.
2, Is Foodchem a manufacturer or just a trading company?
Foodchem is both manufacturer and trading company, we are Sodium Benzoate distributor, at the same time, we are manufacturer of other products.
3, What is the Min Order Quantity of Sodium Benzoate?
Different products have different MOQ, for Sodium Benzoate, the MOQ is 500kg.
4, What is the price of Sodium Benzoate?
Foodchem is a famous supplier and manufacturer of Sodium Benzoate in China, and has been corporate with many Sodium Benzoate suppliers for several years, we can provide you with cost-effective Sodium Benzoate.
5, How long shall we wait for your reply?
We can guarantee to reply your inquiries of Sodium Benzoate in less than 24 hours in working days.
6, What kinds of transportation types can you provide?
Our main transportation methods include air transportation, land transportation and water transportation.
7, What kinds of payment terms can you accept?
The most commonly used payment terms are T/T, L/C, D/P, D/A, etc.
8, How long will I receive my good?
Foodchem has its own EDC warehouse in Shanghai, when your purchase order has been confirmed, inventory products will deliver within 1 week, other products delivery in 2 weeks.
User : Luisa Gomez
2015-05-17 21:53:57
Luisa GomezQ :
Deseo saber el precio de 25000Kg de benzoato
FOODCHEM A : thank you very much for your comment, we will contact soonest
User : Bincord
2014-11-17 03:18:49
BincordQ :
The price of
Sodium Benzoate
a 25kg bag is how you sell it?And as I am in the DRC / Kinshasa how it will arrive?
FOODCHEM A :
Well,prices will be discussed in different in your order quantity,and we offer the most competitive price for all of you.Besides,The main mode of our goods transport has maritime, air and land transport.You can choose the most suitable for you.
User : Alexey
2014-10-28 21:11:23
AlexeyQ :
Hello,is your
Sodium Benzoate
food grade? powder or granular,i need large amount of sodium benzoate granular food grade.Please tell me if you can supply?
FOODCHEM A :
Well,we have food grade sodium benzoate in granular,powder and extruded.Our sales manager has send you email,please kindly check.
User : Lucas Oberndoerfer
2014-10-09 22:08:02
Lucas OberndoerferQ :
Hello, i want to konw if you can do 20container with pallets,and how many tons of
Sodium Benzoate
in one 20 fcl with pallets?
FOODCHEM A :
Yes, we can do 20 container with pallet of 13 metrin tons sodium benzote
User : sara
2014-09-08 21:21:00
sara Q :
So may I kindly ask you give me the following details (for
Sodium Benzoate
) : 1) Technical data sheet 2) Price 3) Delivery time 4) Payment terms
FOODCHEM A :
The above questions will be solved when our sales reply your message, pls wait patiently for our reply.
Related Products
You may also be interested in
vitamin c collagen
food preservative sodium benzoate
beef collagen casing
buy liquid glucose