Products

Share:

Vanillin
is one of the popular food additives and ingredients in most countries, As a professional Vanillin supplier and manufacturer,
Foodchem International Corporation
has been supplying and exporting Vanillin from China for almost 10 years, please be assured to buy Vanillin at Foodchem. Any inquiries and problems please feel free to send emails to us via
sales@foodchem.cn
, we will reply you within 1 working day.
Vanillin
Language:
Type:

Aromas

CAS No:

121-33-5

Qty in 20' FCL:

12MT

Min. Order:

1000KG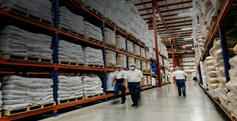 Vanillin of European Warehouse
Specification: EP, 25kg/drum
Stock : 5000kg
Package : 25kg/bag

Prompt shipment from European warehouse for local customers,and more stock in our China warehouse, welcome inquiry!
European warehouse
Products in stock
More
USA warehouse
Products in stock
More
| | |
| --- | --- |
| ITEM | STANDARD |
| Appearance | White to pale yellow crystal like powder |
| Odor | Has a sweet, milk and vanilla aroma |
| Solubility (25 ℃) | 1 gram completely dissolves in 3ml 70% or 2ml 95% ethanol, and makes clear solution |
| Purity (GC) | ≥ 99.5% |
| Loss on Drying | ≤ 0.5% |
| Melting Point | 81℃- 83℃ |
| Arsenic (As) | ≤ 3 mg/kg |
| Mercury (Hg) | ≤ 1 mg/kg |
| Total Heavy Metals (as Pb) | ≤ 10 mg/kg |
| Residue of Ignition | ≤ 0.05% |
Vanillin is a phenolic aldehyde, an organic compound with the molecular formula C8H8O3. Its functional groups include aldehyde, ether, and phenol. It is the primary component of the extract of the vanilla bean. Synthetic vanillin, instead of natural vanilla extract, is sometimes used as a flavoring agent in foods, beverages, and pharmaceuticals.
The largest use of vanillin is as a flavoring, usually in sweet foods. The ice cream and chocolate industries together comprise 75% of the market for vanillin as a flavoring, with smaller amounts being used in confections and baked goods.
Vanillin is also used in the fragrance industry, in perfumes, and to mask unpleasant odors or tastes in medicines, livestock fodder, and cleaning products.It is also used in the flavor industry, as a very important key note for many different flavors, especially creamy profiles.
Vanillin has been used as a chemical intermediate in the production of pharmaceuticals and other fine chemicals. In 1970, more than half the world's vanillin production was used in the synthesis of other chemicals, but as of 2004 this use accounts for only 13% of the market for vanillin.
Additionally, vanillin can be used as a general purpose stain for developing thin layer chromatography (TLC) plates to aid in visualizing components of a reaction mixture. This stain yields a range of colors for these different components.
1, What kinds of certificates can you offer?
Foodchem is an ISO2008 9001 certified company, as for Vanillin, we can offer HAPPC, KOSHER, HALAL Certificates, ect.
2, Is Foodchem a manufacturer or just a trading company?
Foodchem is both manufacturer and trading company, we are Vanillin distributor, at the same time, we are manufacturer of other products.
3, What is the Min Order Quantity of Vanillin?
Different products have different MOQ, for Vanillin, the MOQ is 500kg.
4, What is the price of Vanillin?
Foodchem is a famous supplier and manufacturer of Vanillin in China, and has been corporate with many Vanillin suppliers for several years, we can provide you with cost-effective Vanillin.
5, How long shall we wait for your reply?
We can guarantee to reply your inquiries of Vanillin in less than 24 hours in working days.
6, What kinds of transportation types can you provide?
Our main transportation methods include air transportation, land transportation and water transportation.
7, What kinds of payment terms can you accept?
The most commonly used payment terms are T/T, L/C, D/P, D/A, etc.
8, How long will I receive my good?
Foodchem has its own EDC warehouse in Shanghai, when your purchase order has been confirmed, inventory products will deliver within 1 week, other products delivery in 2 weeks.
User : MASOUD KABIRI
2014-10-21 20:31:32
MASOUD KABIRI Q :
Hello,we want to buy polar bear brand
Vanillin
,can you supply?
FOODCHEM A :
Yes,we have "Polar Bear" Brand Vanillin packed in 500g/ bule tin,20kg/drum and 50 kg/drum.
User : Andery Rice
2014-09-22 02:10:41
Andery Rice Q :
What's your package of your
Vanillin
?
FOODCHEM A :
Well,the package of our vanillin include Neutral Packing 20kg/drum,Neutral Packing 25kg/carton,Neutral Packing 25kg/drum,25kg/drum,500g/tin,50kg/drum,20kg/drum,500g/tin,etc.
User : Anowar Plash
2014-09-17 21:26:59
Anowar PlashQ :
I want powder flavor for dairy&food products,can your
Vanillin
used in my product?
FOODCHEM A :
Of course yes,the largest use of vanillin is as a flavoring, usually in sweet foods. As it is surveyed,ice cream and chocolate industries together comprise 75% of the market for vanillin as a flavoring, with smaller amounts being used in confections and baked goods.
User : Yiru
2014-09-16 21:57:07
YiruQ :
Currently we are looking for new suppliers for
Vanillin
For food use.can you supply vanillin?
FOODCHEM A :
Yes,we export vanilin and various kind of other food ingredients and additives,our sales manager has send the product details to you, pls kindly check your email, if you have any other question about our product, please feel free to contact us.Have a good day!
User : Jullian
2014-09-12 03:08:01
JullianQ :
Hello, I am interested in
Vanillin
: solid form, 20kilograms, CAS no. 121-33-5 Can I please get a price quote? Thank you,
FOODCHEM A :
Thank you for your inquiry, The MOQ of vanillin is 500kg, we are kindly suggest you to increase your order quantity.
Related Products
You may also be interested in
vitamin c ascorbic acid
l-menthol
potassium sorbate sodium benzoate
85% phosphoric acid